Convert job sheets into invoices - single click
BusinessFlow is a 'job management' tool which automatically creates job sheets and tracks the job through it's various stages and then easily converts to an invoice once completed.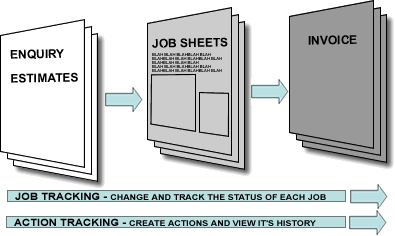 Running a small business you need an effective system:

BusinessFlow's focus is on helping to improve the flow of work your business:


Creating job sheets, enquiry sheets, or other documentation
Full control* over the design, layout, size of the job sheets and documentation
Create as many types of job sheet, invoice, quotation styles as required
Change and keep track of the status of each job, unlimited number of job status's can be defined
Easy to use reports about the status, in progress or waiting
Link files, images, photos to each job (e.g. before and after photo's can be linked to the job for later reference)
Add unlimited notes and comments about each job for later reference or for sharing with other users
Keeping track of employee time on a job
Making appointments
Tracking where lead referrals come from

Nb: * using Microsoft Word Templates


Enter information once and easily reuse for Enquiries, Quotations, Job Sheets, Invoices and Statements
BusinessFlow links all your jobsheets, enquiry sheets, quotations, invoices, images, files into one easily managed software package The benefits of entering the data just once and then sharing that information across all your documentation will save time. In a survey we carried out in 2007 our existing customers said on average they were saving 4 hours a week using BusinessFlow software.
Customer Comment: "We looked at several packages but only BusinessFlow Software offered a package that links our job sheets to our invoices and quotes and is fully customised to suit our business."

Customer Comment: "since using BusinessFlow I can automatically print a job sheet and issue to my fitters, once signed and returned the invoicing is a simple few clicks, I'm able to stay on top all the jobs"

Sharing Job Sheet Information:
SHARE JOB SHEETS AND ALL JOB INFORMATION ACROSS MULTIPLE COMPUTERS

You don't need any complicated servers to create job sheets and invoices and track jobs through to completion. As long as you have a simple local area network, then multiple computers can use BusinessFlow at the same time to share information.

BusinessFlow staff are available to confgure your computers via remote desktop - all included in the small monthly subscription.




Create your own Job Sheets and worksheet documentation



BusinessFlow software exports the information to "bookmarks" contained in Microsoft Word templates. This means you have complete control over the design, layout, fonts, and size of the printout.

Bookmarks are hidden locations within the word template. The bookmarks each have a name and can be added and removed according to the information the user wishes to see exported from BusinessFlow to the job sheet. A complete list of bookmarks and their names are available to our customers if required.

We decided to use Microsoft Word as the template because it allows exceptional flexibilty in design for the user and we've found that is meets most business requirements.



Create Multiple Job Sheet templates



You can create new jobsheet templates so you have a choice of document for each business circumstance. For example:

a job sheet for appointments
a job sheet for fitters
a customer sign off sheet
a very small job sheet on A5 card or to print to a dymo machine for quick labels for their work in progress
The system is designed to be very flexible and adaptable to meet the varying needs of small businesses. If you do not have the time or knowledge to modify and create your own job sheets then our friendly and skilled design team will be glad to change this for you. Email us on support@business-flow.co.uk


Job sheets are used by our customers in many unique and novel ways:
Company 1:
2 people and an admin in the office. Each has a PC all connected to BusinessFlow over a local area network. When a customer calls and would like a visit and estimate then their details are entered onto BusinessFlow (or if they are an existing customer then their details are simply reused). After entering a brief description of the work required a job sheet (set-up as an appointment sheet) is then printed showing all the relevant customer details (e.g. address, name, contact details, description, appointment time etc.) along with the other relevant layout required by the engineer/surveyor. The job sheet / appointment sheet is taken to the customer when they visit to make notes. When they return to the office the notes are entered into Businessflow and the quotation / estimate is easily printed.

Company 2:
At the start of each day, all the electricians' job sheets are printed and given to the appropriate engineer. Each job sheet has a unique number assigned and their job sheet has been designed in such a way to show the site address separately along with the work required, and appointment time. The Electrician's jobsheet also has room for notes and parts used by the electrician and at the bottom of the job sheet is an area for the customer to sign that they have accepted the job as completed. When the job sheet is returned to the office a few simple clicks and the invoice can be generated.
Company 3:
This customer has a a unique electrical job sheet printed on A5 card used for their workshop, they also have normal A4 paper for printing a second job sheet and also quotes and invoices. A third job sheet is then used for producing labels which are printed via their dymo machine.

* all documentation (including job sheets, invoices, quotes enquiry sheets) are created using Microsoft Word templates. Creating new documentation or changing the layout style is all completed using Microsoft Word. BusinessFlow software will open the required template and export the information into the defined location (bookmark).
back to top
&nbsp